INSPECTIONS

With the growing demand, the lifting product range also increased to include webbing products as well as a manufacturing division for the manufacture of overhead cranes and special transport cradles, which allowed GW Lifting to offer more products in the market.
All lifting equipment inspections are carried out by registered Lifting Machinery inspectors (LMI),

GW Lifting

also offers on site inspections country wide for customer convenience.
Certificates and registers are updated electronically using a sophisticated computer program, allowing customers access to expiry dates of certificates and upcoming inspections.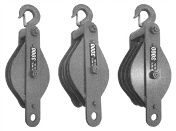 LIFTING CATALOGUE - Click each category below to view the various lifting equipment categories and their specs. Downloadable PDF format.